Ceramics have long captivated artists and artisans. From prehistoric pottery to Ancient Greek amphorae and porcelain's rise in Asia and Europe, ceramic traditions have permeated many artistic disciplines.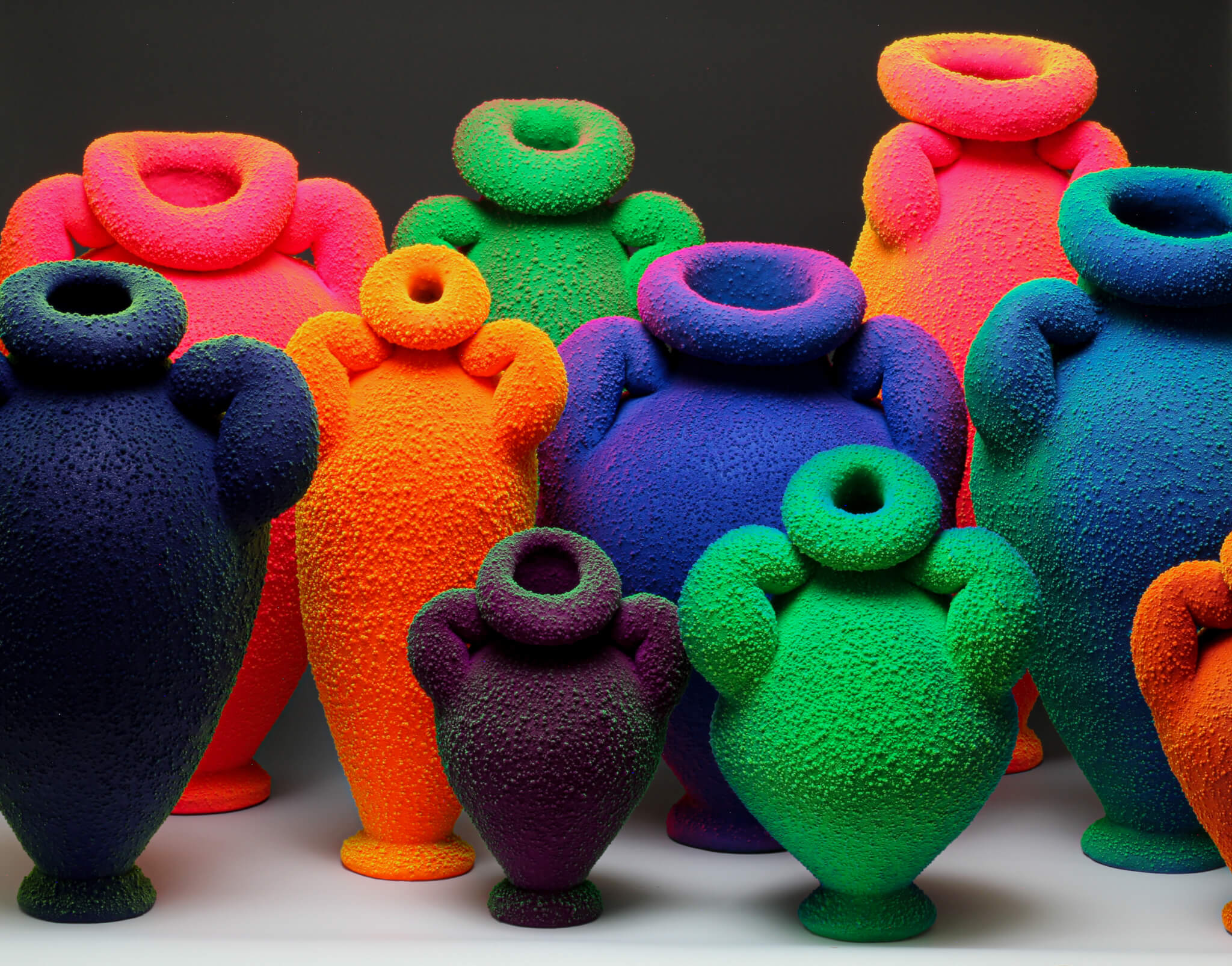 Maxwell Mustardo
Maxwell Mustardo's work is marked by an intense curiosity for artifacts, meticulous material research, and vibrant color palettes. He is a resident artist at Toshiko Takaezu's Flemington studio (1922-2011).
At his latest exhibition, "Dish-Oriented," Mustardo explores and reinvents classic ceramic forms. His vases, such as the iconic Gadrooning motif from Roman sarcophagi, take on an air of excavated futures through their glazed stoneware surfaces.
Mustardo's pieces possess an inertia solely derived from their shape and function. Their sculptural erotyka lies in their unctuous ambiguities. At the same time, vibrant colors draw on cultural signifiers ranging from the anthropomorphic to fashion-conscious.
Mustardo is an ideal leader for the ceramics community at this critical juncture. Rather than shying away from skepticism that has permeated the field, he approaches making with the same precision and commitment to detail that he applies to his writing.
His approach is to "examine perception and signification, then reimagine meaning." Additionally, he views making as an important opportunity to challenge static thinking.
The young ceramist is currently conducting rigorous material research within the ceramics community, striving to balance functionality with material exploration. For example, he's recently testing glazing techniques that utilize metal-saturated glasses that precipitate crystal growth during kiln cooling.
Koike Shoko
Koike Shoko is one of Japan's most celebrated ceramic artists. Her expressive vessels capture shells, ocean waves, and geological patterns along seaside cliffs. Crafted with Shigaraki clay (stoneware), these sculptural forms are coated in creamy white or deep anthracite glazes with touches of lavender blue or turquoise glaze for an eye-catching effect.
Koike's art is an authentic reflection of her individual style. She was one of the first female Japanese ceramicists, breaking away from the tradition that male-dominated ceramic arts had before World War II. After World War II, women were given greater access to advanced education and training in this area and encouraged to enter pottery kilns and apprenticeships.
Koike's sculptures elegantly blend the sharp lines of nature with vibrant colors and a delicate Japanese aesthetic. She draws inspiration from shells, as seen in two vases she presents here: The raw, rough shell encases a milky interior that perfectly replicates these marine corals' complexity and richness.
Koike's sculptural works are inspired by her appreciation of nature. They are imbued with an energy that captures the vitality she finds in them. Her minimalist forms and vibrant blue glaze, in shades ranging from Persian blue to cerulean, demonstrate her own sense of rhythm as she works on her potter's wheel.
Fernando Casasempere
Fernando Casasempere is a Chilean-born London-based ceramist and environmental artist whose work often explores landscape, architecture, and history. While his use of clay and earth may be conceptually similar to artists associated with the Land or Earth Art movement, Casasempere draws inspiration from an even more profound cultural tradition: Pre-Colombian art and architecture from Latin America.
His large-scale installations combine sculpture with architecture and landscape to challenge our perceptions of imminent ecological collapse while raising important global social issues. His works have been showcased at venues such as Somerset House in London (2012) and Museo Nacional de Bellas Artes in Santiago (2016).
Scratching the Surface (2019) presents a series of wall sculptures and floor works that depict petrified rock formations or bones flattened and eroded by time and the elements. Their bulky chunks are suspended on conveyor belts, their sides revealing dark recesses and curving patterns indicative of strata or layers beneath.
These pieces, tinted blue by minerals, appear to have been fractured by some tectonic force; their hand marks and gouges on their surfaces remind us of our forebears' early drive to create.
Since the 1980s, this artist's work has been exhibited internationally. It can be found in collections including the Victoria & Albert Museum in London, Museo Nacional de Bellas Arts in Santiago, and the Boston Museum of Fine Arts.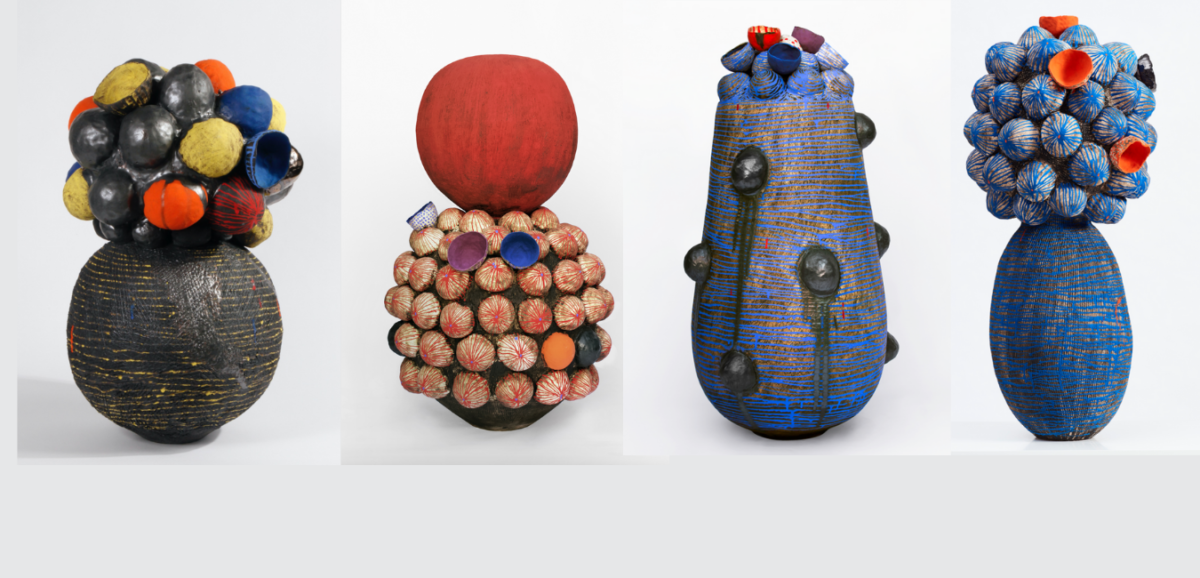 Zizipho Poswa
Poswa's totemic works draw inspiration from Xhosa rituals and textiles. She often employs porcelain shards that she rolls, smashes, and attaches to create her pieces, often taking color cues from Japanese pottery's blue cobalt hues.
After a career in textile design, Poswa ventured into ceramics in 2006, founding Imiso studio in Cape Town. Her sculptural pieces draw inspiration from her Xhosa roots and African hairstyles. Still, she also explores the connection between nature and technology by crafting pieces that incorporate elements of nature, such as water vessels – something women have traditionally carried.
Genesis Belanger
Genesis Belanger's ceramic sculptures and installations depict familiar objects — cigarettes, lipstick tubes, stray pills — as surrogates for human bodies. They possess an uncanny quality with their soft pastel tones and rounded curves that simultaneously elicit comfort and unease.
Belanger's work draws inspiration from pop artists such as Claes Oldenburg and Marisol; it also pays homage to early 20th-century Surrealism artists like Magritte for their humorous yet unsettling take on domestic life and white-collar workplaces. In addition, her intricately crafted ceramic and powder-coated sculptures explore narratives related to gender, sexfilmy and power through intricately crafted ceramic forms.
Her process is similar to building a stage set; she pieces together furniture that evokes an effortless mid-century vibe and fills these scenes with everyday items. Belanger's recurring themes explore advertising manipulation and mass production.
Stepping into Belanger's studio in the bright sunshine, it's easy to imagine it as a surrealist kitchen with its stainless-steel kiln and rolling cart filled with small slabs of stoneware, plus her mint green KitchenAid mixer for adding pigment to porcelain. Her ceramic sculptures and other installations feature pastel-toned ceramic and cast-concrete objects with humor and surrealism in their active evolution.
Her work is currently on display at the Aldrich Contemporary Art Museum in Ridgefield, Connecticut, until May 9th. Additionally, The New Museum recently commissioned Belanger to install a window for their 231 Bowery building.
David Perry
Perry is a renowned game designer, creating award-winning titles for Genesis and Sega CD consoles and successful video adaptations of blockbuster movies. Additionally, Perry founded and served as CEO of Gaikai, an influential cloud-based video gaming company.
Perry is not only an accomplished game designer but a gifted musician as well. He teaches clarinet and chamber music in urban areas, driven to bring people together through music at a time when so many forces seek to divide us. His passion has come full circle as he helps bring people closer together through music during turbulent times.
Perry's work is inspired by a longstanding tradition in ceramic art, particularly within the United Kingdom. His use of an iconic vase form as the starting point for his pieces, along with his selection of material and adherence to craft techniques, are all elements that tie him to this rich heritage.
Therefore, it is unsurprising that his work has earned such praise from critics and curators alike. In his own words, he describes himself as "a potter by trade, an artist by choice."
However, I am most taken by works incorporating traditional ceramic mediums with explicit scenes and themes. For instance, My Gods, recently sold at Made in Britain, features a carved vase with an inscribed portrait of Abraham Lincoln and "I am a potter" written on its side; its content is direct and sharp – giving the work its 'radical edge' (quoted in Klein 2009).